In today's major corporations, you can hear terms such as "employee involvement," "employee engagement," and "high-performance teams" echoing through the hallways. Nearly every big company has some sort of engagement effort underway. This is in sharp contrast to 30 years ago, when I began my career. Back then, only a couple dozen prominent companies were experimenting in what was most often referred to as "participative management" or "socio-technical systems."
These early adopters were the revolutionaries; by creating organizations that empowered work teams to make process improvements, redesign work, identify and solve quality problems, and set work schedules, they paved a path to superior business results, better labor-management relations, and improved quality of work life. Most large companies now recognize the performance benefits of engagement, and they want to develop it, too. I spent time with many of the pioneering companies either as a researcher trying to understand the inner workings of their team structure, or as a consultant helping to improve the performance of their work systems. An impressive list of companies participated in widespread employee engagement efforts going back to the 1980s and '90s: Boeing, Digital Equipment Corporation, Tektronix, Shell Canada, Lockheed, Harley-Davidson, Quaker Oats, IBM Canada, Esso, People Express, McDonnell-Douglas, and Kodak. Yet some of these companies either no longer exist or are a fraction of the size they were three decades ago. What happened? How can you have a highly innovative system of employee engagement — better than anything else around — and fail over the long haul? Based on what I observed, the answer is simple: bad strategy, poor integration, and the inability to transfer learning. These were the most common causes of engagement failure at the company level.
STRATEGIC BLUNDER
No matter how good the internal workings of the organization are and how successful the teams within an operation have been, a bad company strategy— such as People Express airlines failing to go after the business market or Kodak failing to appreciate the digital camera revolution — will cripple and ultimately end employee engagement as the company declines from its miscues and re-prioritizes its budget. Engagement is nearly impossible to maintain in organizations that are in sharp decline because of a strategic blunder.
COLLISION OF WORK CULTURES
Likewise, a merger, acquisition, or major reorganization where companies or departments with very different and unique cultures are force fit together will quickly erode even the strongest of team structures. As an example, the "growing pains" associated with the 1997 merger of Boeing and McDonnell Douglas initially stunted employee involvement efforts in the newly merged company. Without equal involvement by both companies and strong integration plans, M & As can have a devastating impact on employee engagement.
INABILITY TO TRANSFER LEARNING
Finally, the inability to transfer learning within a company can isolate highly successful teams and potentially cause them to wither away and die. Managers in neighboring departments will often attribute the successful performance of a high involvement team as a fluke or the result of some unique circumstance; they often take no personal interest in expanding the benefits of engagement to other parts of the company. This helps to explain why the high performing team approach at Proctor and Gamble's Lima, Ohio plant, first documented in the 1970s, had so much trouble gaining traction at other P&G plant locations for years, despite maintaining 20% better performance in virtually every measure. In another example, the Tektronix Portables Division's rolled out a phenomenal employee engagement effort that resulted in a $200 million turnaround, but it was never replicated elsewhere in the company.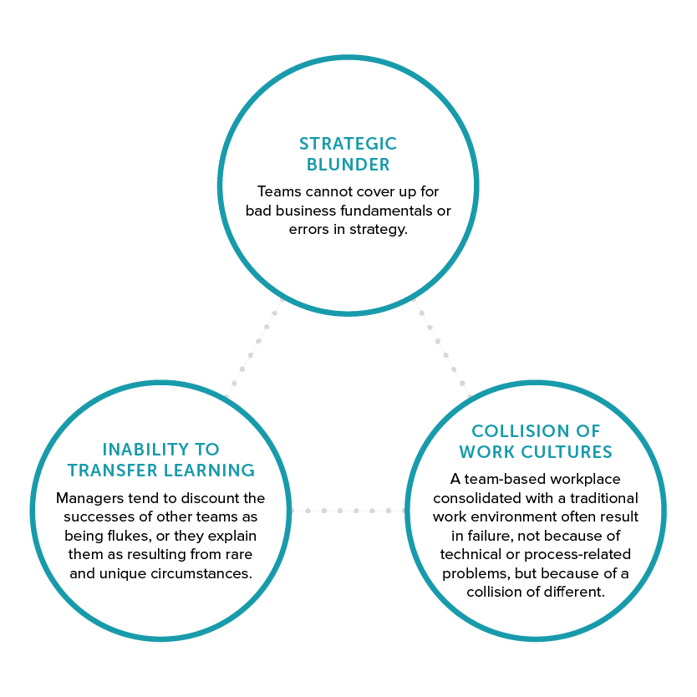 MAJOR CAUSES OF EMPLOYEE ENGAGEMENT FAILURES
While strategic blunders, botched acquisitions, and the failure to apply lessons learned have contributed to some startling engagement failures, this occurs at the macro, company-wide level. What about the trip wires affecting engagement efforts within a single work team? What are the common traps that impact engagement in a small group (usually 5-15 members in size) and what can be done about it? Part II of this blog will provide some answers.
© 2015 by Rayner & Associates, Inc. Used by Overland Resource Group with permission.
Guest Blogger Steven R. Rayner is an author/co-author of seven books on topics related to high-performance work systems, change leadership, and culture change and is a leading consultant on these same topics. He is the founder of Rayner & Associates, Inc. Steve can be reached at: rayner@raynerassoc.com.