As I took to the podium for a panel discussion at the 66th Annual Meeting of the Labor and Employment Relations Association earlier this month, it was with a delightful trifecta of emotion:
I was pleased to have Overland Resource Group sponsor the event which annually brings together management and labor leaders, academics and neutrals to share and discuss research, best practices, and new thinking relating to employment relations;
I was honored to host and participate on a panel of executive-level leaders from the Federal Aviation Administration and its two largest unions, who came to tell their story of organizational transformation;
And most of all, I was so very proud to hear them describe how the collaborative process Overland helped them launch in 2009 has continued to evolve and grow—even in very challenging times in the federal sector. It is a story I wish every organization struggling with adversarial labor-management relations and/or entrenched conflict could have the benefit of hearing. And so, for the sake of well-deserved retelling, here's a summary of the progress the agency and its unions had made together by the time Overland concluded its contract there in early 2013: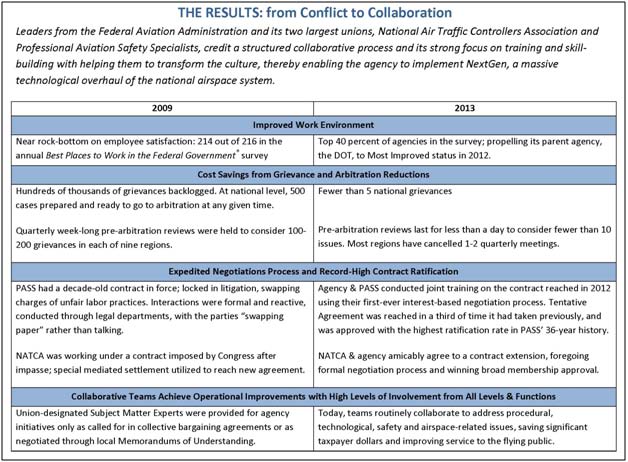 As I watched session attendees attentively take in the story, ask earnest questions ("How did you get people to follow?", "How did you manage pendulum swings from shifting leadership priorities?", "What made it not 'just another program'?") and offer knowing nods at the candid and forthright responses, I knew without doubt that the transformation we helped set in motion there in 2009 remains in good hands. I suppose there is always more a consultancy would like to do: more expertise we could bring; more skills we could hone; more process and structure we could shore up to assure the change "sticks" and can withstand the assault of organizational forces that always seem to rise up and seek to threaten even the most amazing progress. But there is tremendous gratification in knowing this process now rests exactly where it should: firmly in the hands of organizational leaders who have a steadfast focus on staying the collaborative course.
This trio of accomplished collaborative leaders– Teri Bristol, now Chief Operating Officer of the FAA's Air Traffic Organization; Trish Gilbert, Executive Vice President of the National Air Traffic Controllers Association (NATCA); and Mike Perrone, National President of the Professional Aviation Safety Specialists (PASS) – recounted what we began together and they now continue to do to assure their culture of collaboration not only survives, but thrives. When we began working with the agency and its leaders five years ago, we coached, consulted, thought-partnered, trained, communicated and helped them design collaborative processes focused on Five Keys to Build & Sustain Collaboration.
Today, they continue to work diligently to reinforce progress made, and to further embed each of the Five Keys into the culture. Here's a sampling of recent efforts:
1. Articulate Leadership Commitment.
In any significant transformational effort, complacency can be a change-killer. Yet these leaders continue to walk the collaborative talk. Not only do their words describe their vision of an agency where collaboration is the expectation not the exception, they also do so through their actions. Joint labor-management site visits are common. Having management leaders speak at union conferences and labor leaders attend strategic management meetings is now commonplace. And, their collaborative success is routinely featured as a best practice in the national news. In fact recently it was one of three examples singled out for inclusion at a White House forum on effective labor-management practices.
2. Evolve Labor Relations Practices.
For NATCA and the agency, one of the earliest interventions was the formation of a Collaborative Steering Committee to proactively address thousands of grievances and dozens of costly arbitrations that were bogging them down and preventing collaborative progress. To remedy that, together we developed an Issue Tracker to catalogue all the potentially divisive issues and sort out a proactive approach for resolution before pushing items to the formal LR processes. Sometimes pro-activeness took the form of jointly sponsoring task teams; sometimes it was a well-placed call from a senior-level labor or management leader to a change-resistant field-level leader; and sometimes it was providing training expertise to help develop collaborative problem solving skills. For PASS and the agency, the evolution of LR approaches stemmed from growing levels of trust between the parties that led them to agree to their first-ever interest-based negotiation process. They secured a tentative agreement in record time, had it ratified by a record margin, and proceeded to conduct joint contract training for all front line union reps and supervisors.
Today, both unions and management maintain strong traditional labor relations approaches, alongside proactive efforts that help assure only truly necessary issues are elevated to formal LR processes. When an issue is elevated to arbitration or advanced through the grievance process, it is not viewed as a failure of collaboration; rather, it is seen as a necessary and appropriate way to handle truly divisive issues.
3. Provide Training and Skill Building for Collaboration.
Throughout the project, Overland worked closely with senior leaders to identify skill-building needs and to customize training for their unique environment. Often this involved equipping front line union reps and facility managers with collaborative problem-solving skills, or teaching mid-level leaders how to engage in interest-based conversation. Leaders were also wise to insist that management and union counterparts attend training together. This created an opportunity for them to re-assess perceptions and misconceptions they may have formed through their typical interactions, which generally only occurred when there was a dispute. By learning together, they gained a shared base of knowledge and skill, which they could take back to the workplace and continue to build upon in their day-to-day interactions.
4. Establish Collaborative Structures to Lead Collaboration and Address Critical Issues.
In addition to developing collaborative skill among a critical mass (i.e. a vast majority of front line, mid-and-senior-level leaders), agency and union leaders also recognized that to be sustainable, they needed in-house capability for perpetuating training and tending to the care and feeding of collaborative teams. And so, leaders identified a cadre of internal consultants from management and the union ranks and Overland developed and put them through an intensive preparation program they came to call "training boot camp." As a result, today the agency not only has senior leaders who oversee the collaborative culture, they also have internal resources who are the troops on the ground, providing tactical-level support to implement leaders' strategic vision, which is executed through the use of "joint" teams.
To assure the sustainability of its collaborative process, leaders have worked to become as carefully structured for collaboration as they are for traditional processes like negotiations. For example:
Joint Leadership Teams and/or Steering Committees meet regularly to oversee collaborative progress, recognize success and address challenges;
At the facility level, joint leader pairs charter cross-functional task teams to address critical issues like personnel safety, airspace efficiency, and professional standards;
Specialized groups, such as Joint Communications Teams, enable subject matter experts to bring their expertise to particular tasks. For example, the communication pros come together and decide how to get the word out to employees and convey consistent messaging about progress achieved through collaboration.
Each of these teams makes up part of a framework of collaborative teams that helps institutionalize the practice of working together. When a new leader comes on board, he or she has a seat at the collaborative table, and is invited in to participate in this way of doing business.
5. Develop and Track Clear, Measureable Outcomes.
Certainly, the agency and union leaders keep their eyes focused on a myriad of progress measures: workplace safety, absenteeism, cost reduction, increased employee involvement, airspace efficiency improvements. But the success measure that perhaps summed it up best for me were the words of now COO Bristol when she told session attendees that collaboration "is just how we work now. I can't imagine doing business any other way."
Neither can we, Teri, neither can we.
Cathy Wright is a member of the Consulting Consortium at Overland Resource Group. She is president of New Ground Consulting Group, Inc., which focuses on cultivating the potential in individuals and organizations to lead change for transformative results. Cathy can be reached at c.wright@orginc.com.